View Profile

: knitgal
knitgal

Working the Gusset

Last Activity: 03-02-2010

11:00 AM
Signature
Ann

OTN: Corona, Miter square blanket, Charity blankets
FO: Forest Canopy Shawl, Easy Baby Bootees, Kitty Pi, Ms. Marigold, Twinkle Toes, Josh's socks, Hedera socks, Spring Beret, Ashley's Birthday socks, Socks for the DBF's mom, grey socks for the DBF, my first socks, reversible cable scarf, ribbed hat for the BF, Manos Del Uruguay afghan, and a whole bunch of dishcloths!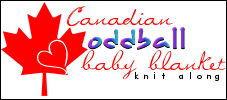 Forum Info
Contact Info
Additional Information
Group Memberships

Date of Birth:

December 13, 1985

Age:

30

Location:

Ontario, Canada

knitgal is not a member of any public groups
All times are GMT -4. The time now is
09:07 PM
.