| | |
| --- | --- |
| brolie | 12-21-2010 11:51 AM |
---
Help with double knit fingerless mittens

So some of you know, I'm a scarf girl. BUT! i started doing gloves and all that. im still sort of new to certain concepts like sewing side seams and what not. my problem is that i am trying to make fingerless mittens (not convertible) with a certain image. my attempt (after knitting five years) and this russian friend of mine's first attempt at knitting in general was drastic and i need help figuring out how she did this hah. the first one is mine, the second is hers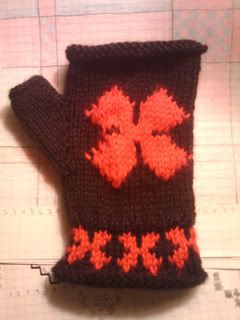 she said that she did it on dpns and double knit the body of the mitten .. i was looking at it, and i cant figure out how i would make the thumb gusset and thumb while working with the double knitting, or how to join a new color in mid way through working in double .. you can see that in mine its all bunched up because i used the fair isle method.
im so mad this is the first thing she knit btw /.. haha.. she is awesome.
she gave me the pattern she used, but it was in russian and google translate did not work. i dont want to do it on dpns, i do my mittens on straight needles and sew the side seam so i get more practice doing that (plus dpns drive me crazy) but i figured the concept would be the same anyway when it comes to getting that sideways medic symbol on the top. im fairly new to double knitting as well but i think i got the basic idea down. just dont know how i would do what she did minus the fingers and convertible part
please please help!!
| | |
| --- | --- |
| RoseFairy | 12-21-2010 04:59 PM |
---
Hi, I did a pair of Fingerless Mitts double knit a while back as well. You can see the in-progress image below. Anyway as for the thumb and fingers go (I only had the thumb, but you get the idea) I simply would knit the parts for the thumb and fingers onto seperate dpns and work them normally. And for adding a new color I'd add it in to both sides. Since doing the FM you'd have two strands, one for each glove, you would need to add in the new color for each side as well.
Yeah I knitted the FM double knit, but inside out. It was easier to keep the strands seperated that way, instead of moving it back and forth. The inside glove was Knitted, while the outside glove was Purled. This kept the strands in back and in front of the work at all times, so easier to keep them from getting tangled.
| | |
| --- | --- |
| brolie | 12-21-2010 07:13 PM |
---
huh.. maybe i could do the same with straight needles.. like i said in that first post, i haaaate dpns. they flop around so much and add so many extra steps with having to move the stitches from needle to needle. so i avoid them like the plague. i might still have to do the thumb on a separate pair of needles though. thats brilliant. thank you :)
| | |
| --- | --- |
| RoseFairy | 12-22-2010 02:11 AM |
---
If you don't like dpns you could always try circulars. There's lots of different ways to knit small things in the round besides dpns. I actually don't like seaming so knitting on dpns or circulars suits me just fine. Anyway good luck with your Fingerless Mitts.
All times are GMT -4. The time now is

11:45 AM

.

copyright knittinghelp.com