- -
Tranquil Lapghan
(
http://www.knittinghelp.com/forum/showthread.php?t=110541
)
| | |
| --- | --- |
| AmandaR1983 | 09-27-2012 08:22 PM |
---
Tranquil Lapghan

A friend of mine has a 1 1/2 year old son, which is what made me want to learn to knit in the first place, so I could make some things for him. So, because he's still fairly young, and I'm still so new at knitting, I went through all the free patterns on Mary Maxim to find something relatively small, but large enough for a near toddler, that wasn't too complicated. Instead of using the recommended yarn, I chose cotton yarn in a very vibrant color, Lily's Sugar'nCream Psychedelic, which it very much is. It's going pretty well, so far, except I keep... miscounting... on the Pattern Stitch, doing more knits or more purls than I should, and not realizing it till I'm already on the next row. I recently had to purchase more yarn though, it turned out I had... underestimated the amount needed because the cotton yarn balls are smaller than the skeins in the pattern. My bad.
Here's a link to the pattern:
Tranquil Lapghan
| | |
| --- | --- |
| Jan in CA | 09-27-2012 09:36 PM |
---
1 Attachment(s)
Oh that's a really pretty blanket! Make sure you share a picture in here when you're done!

I think the pattern stitch you're doing is called moss stitch. What you need to do (if you haven't) is learn what the stitches look like.. learn what knits and purls look like. That way it's really easy to just look at the stitches you've just done and see what needs to be done next. At the beginning of the row you should be able to tell as well. I did this sample to show the difference.

Welcome to Knitting Help!
| | |
| --- | --- |
| Antares | 09-28-2012 07:45 AM |
---
What a lovely blanket! Yes, please post a picture of the finished object when you're done.
| | |
| --- | --- |
| ArtLady1981 | 09-28-2012 08:21 AM |
---
I think what you're doing is so wonderful! You're a true friend! We look forward to your finished Afghan!
| | |
| --- | --- |
| AmandaR1983 | 09-28-2012 06:06 PM |
---
Oh, thank you! Yeah, I've also figured out that if I count out the pattern as I do it(knit, knit..purl, purl) I don't screw it up as much :). I'll likely take a picture in the next day or two, just to show the colors. My brother said it looks like someone threw up a clown... But I will definitely post a picture of the finished product before giving it to my friend :)
That's how it is now.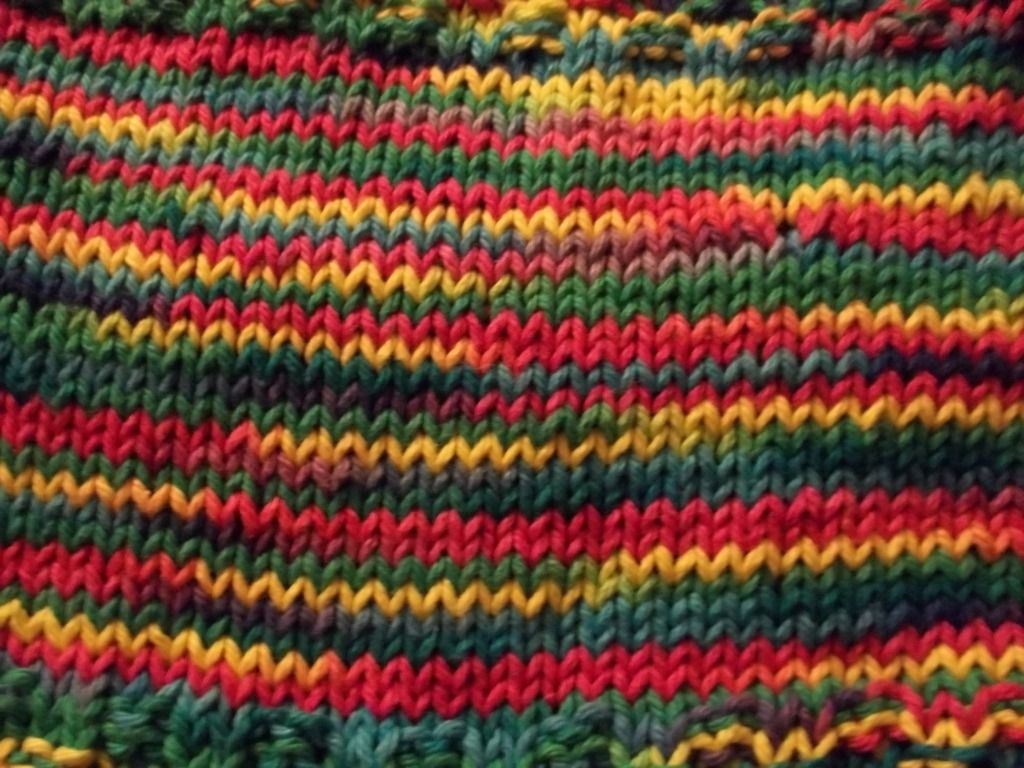 A close up of the colors
And a close up of the pattern
| | |
| --- | --- |
| AmandaR1983 | 04-19-2013 05:32 PM |
---
I finally finished that blanket! Took me so long because of, well, serious bouts of depression that I'm now being medicated for.
Yeah, I used my dad's grill as a "stand". Was the easiest solution to 'what do I drape it over outside so I don't get it wet/dirty?'. My brother still calls it Clown Barf.
| | |
| --- | --- |
| GrumpyGramma | 04-19-2013 05:46 PM |
---
Beautiful! What a lucky boy to have you make it for him. It's an accomplishment to be proud of. And brothers...what do they know anyhow? LOL I had 4 of 'em!
| | |
| --- | --- |
| salmonmac | 04-19-2013 06:51 PM |
---
Oh, this turned out beautifully and is well worth the wait. I'm sure your friend and her son will love it. A tranquil lapghan in bright, cheery colors, great combination!
| | |
| --- | --- |
| Woodi | 04-19-2013 09:05 PM |
---
Wow, this is absolutely gorgeous, Amanda. And I don't agree with your brother at all about the colours. I think they're beautiful. Nice pattern too. Congratulations, and thanks for sharing.

btw: I too suffer from depression and have tried many different meds, but always have to quit after about 6 months from side-effects. It's a rough go and I sympathize. However, I also believe that people who get depressed can also be described as very sensitive, and that's not a bad thing....quite the opposite. So I believe we belong to a very good club.
| | |
| --- | --- |
| HeathersHobbies | 04-20-2013 06:32 AM |
---
I think it turned out great!! I also suffer from bouts of depression. I am a bipolar. I think it's great that you were able to finish it. I know how hard it is to do something when you feel like everything is just crap. I have to push my self everyday to finish projects.
All times are GMT -4. The time now is

02:56 AM

.

copyright knittinghelp.com