As posted in
the pattern thread
, I started with
this Albem Calbed Bag
. It is not ready yet, but it has to be ready this Saturday as it is a gift and that evening will be the deadline.
It is the first time in a while that I'm following a pattern. That is, a pattern which can be followed to the letter without much thinking of my own. It turns out, I am quite good at not thinking beforehand - but I make up with the thinking during the knitting. I hope this makes sense :teehee:
Take the yarn. The pattern clearly states:
BERROCO ULTRA ALPACA (100 grs), #6285 Oceanic Mix
So I went to the store. I knew I should be looking for 100yrs yarn, but I liked the colour of the 40grs better - so I figured I could just use 2 strands to knit. The shopping lady did warn me that this would probably not work. For example, the needle size of the 40grs is given to be 2.5 and you can not just take size 5.0 when you use two strands. The rule of thumb is times 1.5 - so size 4 it is. And the pattern gives size 10 (6mm). That is way thicker :oo: But I was set on the colour and left the store with 8 balls of wool (160m each).
Then, and only then I read the description a bit better and realized that the original description already used 2 strands :wall: Whoops... typical...
I decided to just make a gauge as I had taken the wool home with me anyway. I looked at my needles and could not find a 4 or a 5, so 4.5 it was. The number 6 looked way too thick and I figured I should use 3 strands for that thickness - not something I looked forward to. So I tried the
cable pattern
CB4
: Sl 2 sts to cn and hold in BACK, k2, then k2 from cn
(Multiple of 10 sts + 4)
Row 1
(RS): K1, * k2, p2, k4, p2, rep from * across, end k3.
Row 2:
K1, k the k sts and p the p sts as they face you to last st, end k1.
Row 3:
K1, * k2, p2, CB4, p2, rep from * across, end k3.
Row 4:
Rep Row 2.
I was surprised by the description "k the k sts and p the p sts as they face you", but I figured it out due to the picture. It wasn't untill 2 days agoo that I realised that I could have understood it immediately had I read
this thread
. :oops:
This cabled gauge went OK and I found out that 5 cables would give me the width I wanted from the bag. Not quite 8'' (rather 7'') but the bag would serve its purpose. I scanned through the pattern to see whether this would become a problem later on, but did not see anything alarming.
So I started to knit for real - with 5 times the cable pattern, so 10 sts more than the 44 sts the original description said. I also made another adjustment. I realised that the original pattern gives a moss stitch on the sides (st 1 and st 44). I have never put a work together with moss stitches on the sides, always "columns" of purl or knits (see f.ex. the book covers). So I figured it might be easier to just go for the same thing here - instead of the moss stitch on the edges I went for 2 purl stitches.
Here's what I have so far: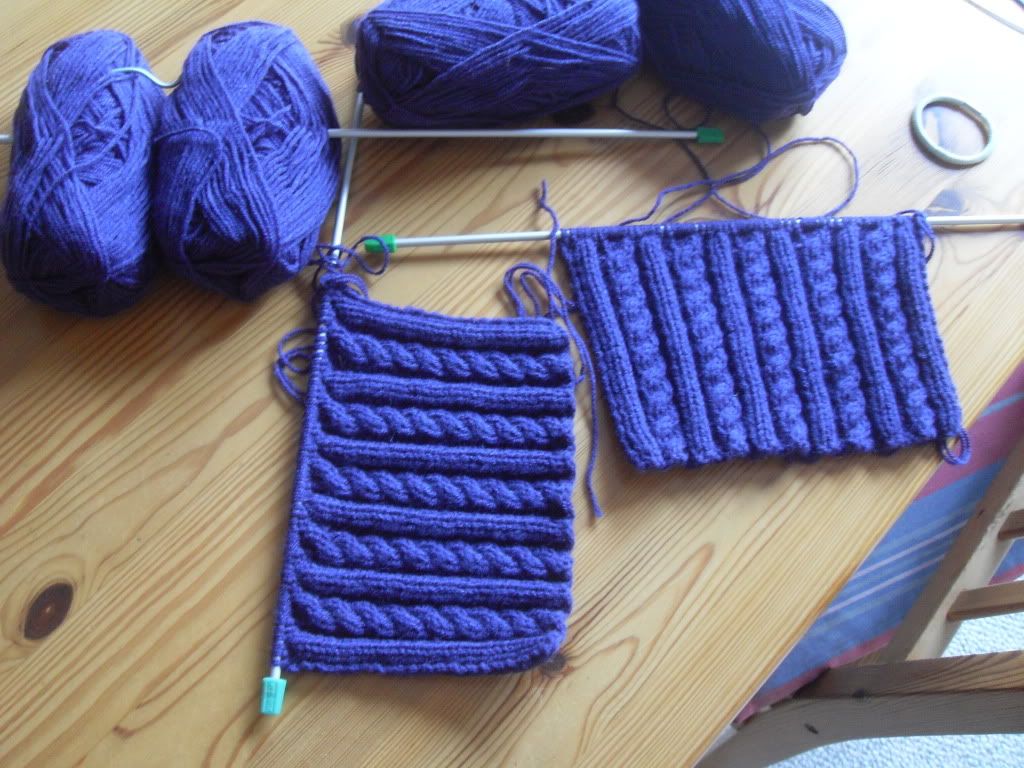 What I did so far is:
Cast on 56 stitches
Row 1
(RS): p2, * k2, p2, k4, p2, rep from * across, end k2, p2.
Row 2:
k the k sts and p the p sts as they face you
Row 3:
p2, * k2, p2, CB4, p2, rep from * across, end k2, p2.
Row 4:
Rep Row 2.
When you look carefully, you see that there's a mistake (I think I forgot to knit some stitches) in one of the cable strings (4th swirl upwards, 4th cable towards the right). I decided this will be the back of the bag, as I don't feel like taking it all apart again. It will not be too noticable, I hope :cool:
That is it for today - I'll update on my progress tomorrow. I've figured out how to decrease (after some headbreakers), but I do not have time to post more right now.