@Ingrid
That would be a good name, indeed ;)
@ClaireWeber
Thank you for the link to that other lace pattern. I might go for that.
I tried 4 ways to change ONLY the first row (and 2nd in the 4th way)
1) No decreases on sides, one decrease RIGHT from yo
2) No decreases on sides, one decrease LEFT from yo
3) 2yo behind one another
4) Row 1 as described, but I knitted 2 stitches into the yo-stitch in row 2 so I had a count of 13 again at the end of the row.
Here's what it looks like, with 2 edge stitches on either side (sl1p+k) as I wondered whether this pattern could be used as a wrist warmer / bracelet for the wingspan-shawl.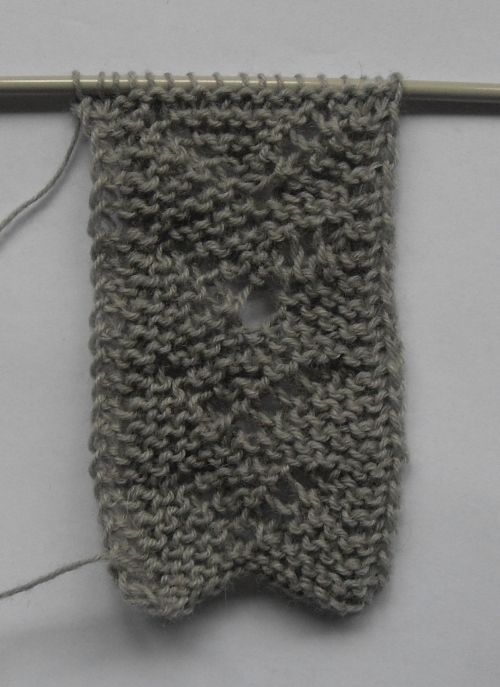 I've got plenty of photo's, but won't post them all. I think one can visit the photobucket account (I set it to Public) for close ups.
Version 3 is a nono, and version 4 also looks a bit odd - but I'm surprised how little version 1 and 2 differ. I had expected the hole to be quite off-centre...
As a wrist band it would look like this:
It's OK but I think I like the
WaveWristlet
better. I've probably got enough yarn to do both.