| | |
| --- | --- |
| gardenmommy | 07-21-2006 09:01 AM |
---
Knit Your Dreams in Quincy, IL...anyone been there? With pix

We have to head down there on some business today, figured I'd check out the map locator (of course!) and that was the only LYS that I could tell that was in Quincy, just wondering if anyone has been there!
http://www.knityourdreams.com/
---
ME, ME, ME

That is where DD11 and I have been going for the past 1 1/2 yr.--at least once a week. We :heart: love :heart: Becca!!! She has taught us and several of our friends how to knit and crochet.

Yes, it is the only LYS in Quincy besides Hobby Lobby and JoAnns.

If I wasn't heading to KY today, I'd meet you there. Darn :crying:
| | |
| --- | --- |
| gardenmommy | 07-21-2006 09:46 AM |
---
Aw, shucks! Too bad I'll miss you! But I just e-mailed her, and she has the Fiber Trends felted clog pattern in stock! :happydance: Now just to talk DH into stopping by...I'd love to see his reaction to being in a LYS! I bet I can get him to feel up some yarn. :rofling:
---
I pm'd you.

Now why didn't I think of checking the map locator for LYS in KY. Shame, shame on me. Going there now!
| | |
| --- | --- |
| gardenmommy | 07-28-2006 05:14 PM |
---
Alrighty, it's been a week, but here's my stash enhancement from Knit Your Dreams, in Quincy, IL, What a great place (who knew you could have so much yarn in a basement, yet well organized and bright) and such a nice owner! I wish I didn't live so far away!
Two hanks of New Zealand wool in a plum-ish color, and one in natural, (both on sale for 40% off!) and a skein of Trekking XXL sock yarn, and the FT Clogs pattern in adult and kids' sizes! :cheering: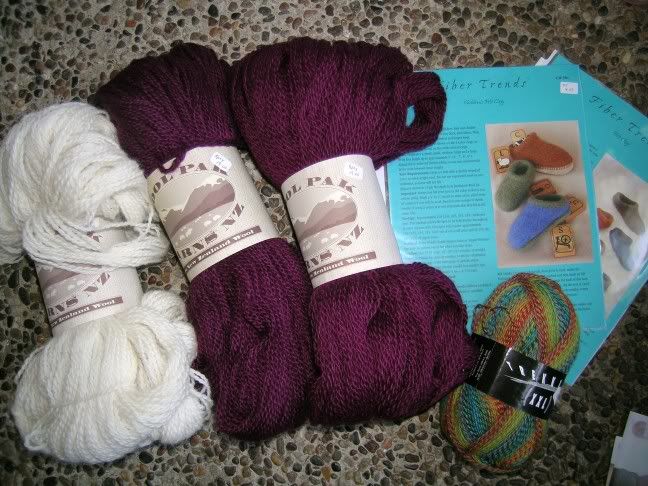 Close up of the Trekking, isn't is beauteous?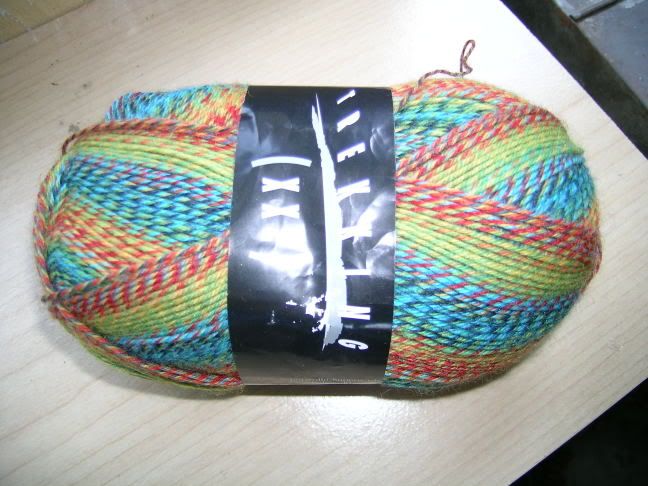 | | |
| --- | --- |
| Julie | 07-28-2006 05:44 PM |
---
I was at Bunco last week, and I walked in on a conversation where someone was saying, "what's in Quincy, Illinois?" and I said, "there's a yarn store!" They all looked at me like I was nuts. :roflhard:

Nice haul!! :D
| | |
| --- | --- |
| gardenmommy | 07-28-2006 06:20 PM |
---
We had missed the turn for it (since I hadn't read the directions thoroughly) and were obvoiusly heading in the wrong direction, out to the country, and DH said "You better buy something if it's going to take us this long to find it!" LOL

And so I did buy something, and he asked when would I have time to knit something with what I had bought and he said "You're just a yarn COLLECTOR." :rofling:
| | |
| --- | --- |
| Hildegard_von_Knittin | 07-28-2006 08:29 PM |
---
my best friend the art teacher is from quincy!!! maybe i'll be visiting "home" with her this winter!
| | |
| --- | --- |
| gardenmommy | 07-28-2006 08:55 PM |
---
Well if you do, you must let me and 1to1 know, we'll have a mini KH meet! :happydance: :cheering:
All times are GMT -4. The time now is

05:23 PM

.

copyright knittinghelp.com