| | |
| --- | --- |
| heather_dw | 11-19-2006 12:08 AM |
---
FO: Moss Stitch Scarf with Ruffle

I used moss stitch on this scarf and added the eyelash yarn and ruffle. This scarf is for my niece (she's 6 :heart: ) I had made her a hat with this same white yarn with the eyelash cuff/ottom and she wore it all day. She pulled out this olllllld scarf I made when I was learning to crochet. Probably 5 or so years ago when she was just a toddler. She says "Look, I still have this scarf you made me!" It was hanging up with her coat and my sister says that she still wears it.
Man was it ugly. Icky colors and weird looking. I told her I would make her a new pretty one to match her hat.
:teehee: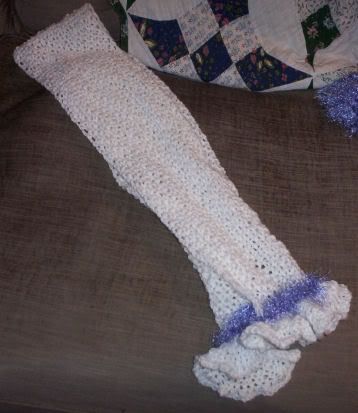 closeup of the bottom:
http://img.photobucket.com/albums/v1...ttom111806.gif
All times are GMT -4. The time now is

09:04 PM

.

copyright knittinghelp.com