| | |
| --- | --- |
| iwouldratherbeknitting | 11-28-2006 08:17 AM |
---
cabled purse- photo link now works.. 2nd photo added

HOPEFULLY, the photo link has now been fixed.. thanks for those who helped.
I made this for a Christmas gift- almost hated to part with it- but, I wrapped it up and have it ready to mail.
I knitted the strap in 2 pieces- one piece is just garter stitch and another band w/ the cable pattern on it and then I just 'lightly' stitched both together every so often- so, it wouldn't move around when it is being used.
I have an awesome alabone shell button on both sides and a magnetic clasp on the inside of the lining. The yarn is a yummy purple-ish, black/blue type of wool/mohair yarn.
OK, how do I insert a photo that is in photobucket? I'm sure it's easy, but? :doh: :?? *OK, I'll try again to add the photo.. wish me luck!
[img]
http://i126.photobucket.com/albums/p.../korea2123.jpg
[img]http://i126.photobucket.com/albums/p120/iwouldratherbeknitting/korea2129.jpg *Second photo added
A closer up view of the yarn. (bear with me still trying to figure out the posting stuff) :D[/img]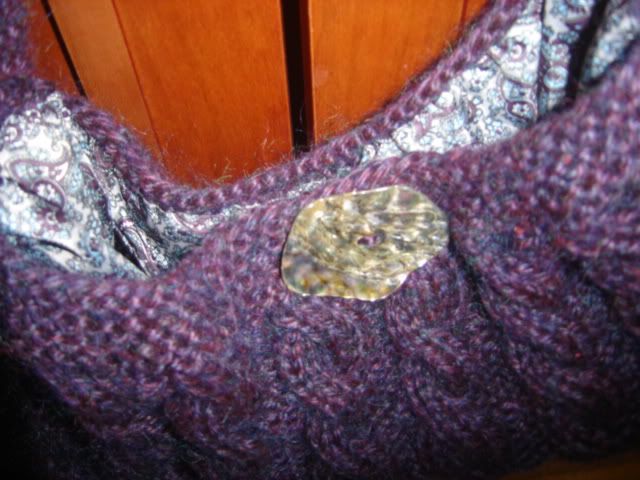 | | |
| --- | --- |
| Lieke | 11-28-2006 08:45 AM |
---
under the pic you uploaded in photobucket are "url"; "tag" and "img". If you copy (ctrl+c) the line behind Img, and paste (ctrl+v) it here in your post, you'll have posted a picture that's in photobucket.
| | |
| --- | --- |
| SandraEllen | 11-28-2006 11:56 AM |
---
The purse is VERY cute. Love the color and the shell!!

To make the link to the pic work, take off the second "[/img]" at the end.
| | |
| --- | --- |
| Mama Bear | 11-28-2006 02:15 PM |
---
Mmmm... one of my daughter's is drawn to purple. She would like that yarn!

Nice job.

Mama Bear
All times are GMT -4. The time now is

12:12 PM

.

copyright knittinghelp.com