| | |
| --- | --- |
| elfhelm | 04-18-2007 03:34 PM |
---
Irish Hiking Scarf & Yarn Pr0n

Irish Hiking Scarf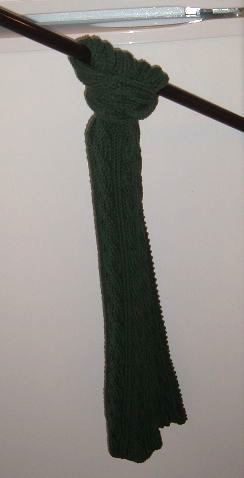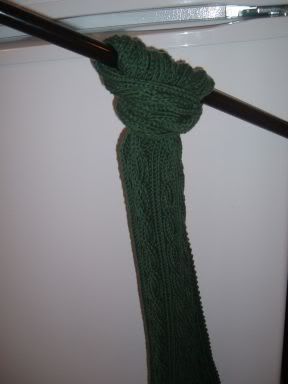 &
Pattern
&
Clover US 8 bamboo circs - because I only have one pair of straights.
&
Cascade Sierra in #011 (pine)
This was supposed to be for my mother and I probably will still give it to her this weekend, but it's hard to give away. I love it muchly. I've been wearing it nonstop since it was finished - which, incidentally, explains why it took me so long to post it. I absolutely love the border on this scarf, as well. I had no problems with the pattern, just with running out of yarn.
I'm very much into scarves and socks right now. This is in spite of the fact that I've yet to complete a sock. I'm working on Knitty's Monkey and just bought the needles for the ever-popular Jaywalkers. Speaking of buying needles, I found the most wonderful yarn shop in all of Halifax: LK Yarns. So what if it was a long walk in the rain? I got yarn! Proof: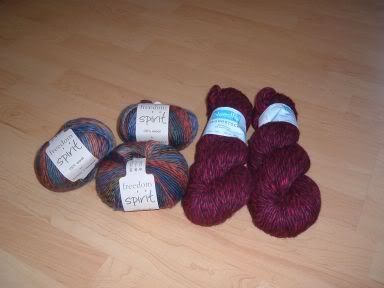 The red is Needful Yarns Woodstock (#5383) for My So Called Scarf and the others... I don't know. I just had to have it. They're Freedom Spirit by Twilleys of Stamford (#507 - Essence). Suggestions?
| | |
| --- | --- |
| Knitlee | 04-18-2007 05:47 PM |
---
I love the Irish Hiking Scarf. Great color green!
---
great scarf! :cheering: and pretty yarn...
| | |
| --- | --- |
| sara_jayne | 04-18-2007 10:49 PM |
---
The scarf looks fabulous!
| | |
| --- | --- |
| auburnchick | 04-18-2007 11:11 PM |
---
Everything is so pretty!!!!
All times are GMT -4. The time now is

06:41 PM

.

copyright knittinghelp.com