- -
Knitted ferrets
(
http://www.knittinghelp.com/forum/showthread.php?t=59125
)
| | |
| --- | --- |
| secretstasher | 05-24-2007 04:02 AM |
---
Knitted ferrets

I have been very busy recently knitting these ferrets. They are made using double knitting wool and eyelash yarn held together. They take quite a while to make but I think they look convincing. It has taken me 6 months of practice to get them looking like ferrets what do you think?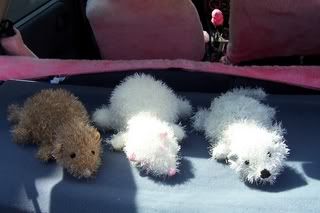 From left to right we have a Sandy an Albino and a Silver.
| | |
| --- | --- |
| tilllie | 05-24-2007 05:02 AM |
---
Oh my!!!! Way too cute and and gave me a good chuckle at this early hour!! Great job!!!:lol:
| | |
| --- | --- |
| Ronda | 05-24-2007 06:32 AM |
---
So cute!!!
| | |
| --- | --- |
| redwitch | 05-24-2007 06:58 AM |
---
Hee hee before I read the text I looked at the photo and I thought 'wow, they really look like ferrets actually!, except for the fur, they kind of look like ferrets would if they had a wash and blowdry, cause the fur's different'. So yes really convincing. I thought about posting that... and then I thought ' where else but here would you see a post beginning with

'I have been very busy recently knitting these ferrets.'

Then I saw 'it has taken me about 6 months to get them looking like ferrets' and thought 'hell why was she so keen on succeeding on getting ferret-like ferrets? Seriously did she need some knitted ferrets or something?'
Hmmm I might make their butts a bit smaller maybe? I'm only criticising because you asked - sorry. But I never had a pet ferret so don't really know... They certainly look lifelike. Sandy kind of reminds me of a possum! (we have way more possums than ferrets in NZ so that's not a reflection on your knitting)
Really cute and better than teddy bears IMO because they are kind of floppy! I like how you made Sandy's ears less hairy because that's what ferret ears look like right? Skillz on the body shaping.

Just out of curiosity was this kind of an exercise in making something look like what you wanted... or do you know a kid who loves ferrets... or were they props or was it just a whim?
If they were posed with heads up in the air they would definitely pass for ferrets on a brief glance.
Sarah
| | |
| --- | --- |
| GinnyG | 05-24-2007 08:43 AM |
---
OMG!!! Get out the traps!!!

HAHAHAHAHAHAHA, they do look real but one question.........why a knitted ferret????:??
| | |
| --- | --- |
| syndactylus | 05-24-2007 09:00 AM |
---
they are cute!
are you sending the pattern anywhere?
are they for kids, or just you?
| | |
| --- | --- |
| marykz | 05-24-2007 09:18 AM |
---
can I use one to trick my friend? she would jump a mile high...ha ha (just kidding) they are seriously cute, and to me- the definitely look like ferrets! good job!
| | |
| --- | --- |
| Olive Oil | 05-24-2007 09:18 AM |
---
Adorable

Oooh !! THey are adorable. I lOVE them. Great work !!:happydance::balloons:
| | |
| --- | --- |
| bellium | 05-24-2007 10:54 AM |
---
they are fantastic! would you be willing to share your pattern? my sister is devoted to her ferrets, and i would love to knit her a few.
---
Oh my goodness!!! This is so cute!!! I absolutely love them. :heart: Thanks for the smile! :teehee:
All times are GMT -4. The time now is

11:31 PM

.

copyright knittinghelp.com