| | |
| --- | --- |
| MerigoldinWA | 08-08-2007 06:54 PM |
---
New baby sweater I designed

Here is the new baby sweater I designed and knit. I just finished it last night. I started with the idea of making a sweater with a cable around the body and wanting to do it in one piece with a yoke. I picked out this cable from one of the Harmony stitch guides. It turns out that a cable wants to curl some so I tired to remedy that a bit by adding a couple of rows of crochet at the bottom. :eyes:
I decided to add some more bobbles to the yoke and did some multicolor corrugated ribbing at cuffs and neck. I tried not to go too far with embellishments. :ick: But I can always think of one more thing to do. :lol:
I didn't have any buttons that would go, and just to find a Wal-Mart I have to travel 35 miles, much of anything else is 75 miles away. :figureditout: So I got the idea to add crocheted buttons to match the bobbles. I think it works.
The gray is really a bit darker and slightly heathered, the blue is a bit more teal and darker, the orange is very bright, but a little darker than it looks. Yarn is acrylic, Patons Astra, a sport weight yarn.
I think the hippie in me shows a little here. ;) What do you think? The sweater is about a 6 month size.
[IMG]
[/IMG]
Here is the back.
[IMG]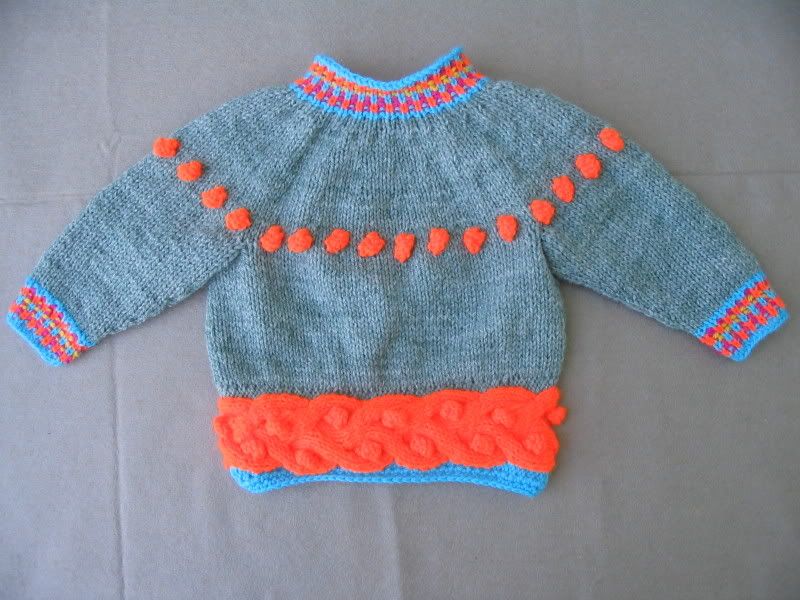 [/IMG]
If anybody wants to see any details of how I attached the buttons or close ups of cable, or cuffs you can go
here
and look at more pictures.
| | |
| --- | --- |
| wildforyarn | 08-08-2007 09:01 PM |
---
I love it! Are you going to share or sell the pattern for it?
| | |
| --- | --- |
| Grandmaknits | 08-08-2007 09:22 PM |
---
Oh Meri,

You have done it again! How wonderful, what mama wouldn't want this little sweater. You really had fun with this one...

Fran
| | |
| --- | --- |
| Jan in CA | 08-08-2007 10:04 PM |
---
Very cute!!
| | |
| --- | --- |
| redheadrachel | 08-09-2007 01:48 AM |
---
Ahhhhhh, it's too cute!! lol I love the bright colors and detailing on the ends of the sleeves - very clever!
| | |
| --- | --- |
| nonny2t | 08-09-2007 04:01 AM |
---
Cute!
---
Wow! It's so bright and pretty, and I love the cable detail. Yes, your hip roots are showing, but that's a good thing. Love it!
| | |
| --- | --- |
| Susan P. | 08-09-2007 07:50 AM |
---
Slim is right..I see a 70's child in there somewhere..if not chronologically..in spirit! That is great..a real celebration burst :) I'll buy a pattern if I can get it online! :)
| | |
| --- | --- |
| astonh | 08-09-2007 10:15 AM |
---
True Work of Art

This is one of the most beautiful and "hip" little sweaters I've ever seen. Looks like it was a doozy to do (but that is from someone who hasn't learned much more than a stockingnette stitch thus far - LOL). Absolutely GORGEOUS design and the colors are way too cool! I want one for ME!

You are a true artist and this work of art is beautiful. Congratulations on completing this and thank you for sharing the pix of it with us.
| | |
| --- | --- |
| Jennifer N | 08-09-2007 01:57 PM |
---
That's fabulous!
I love your creativity.
All times are GMT -4. The time now is

04:03 PM

.

copyright knittinghelp.com