| | |
| --- | --- |
| Krystal | 09-03-2007 01:02 PM |
---
To Frog or Not To Frog?

So my cousins are Pregnant and I was all excited to make the baby stuff. :heart:
But I got stuck. I wanted to knit one particular blanket and started to, but then wal mart stopped carrying that yarn. So I grabbed a bunch of a variegated yarn and just started knitting a big giant seed stitch blanket.
I was going to do seed stitch either way because I like how soft and squishy it knitted up. Problem is, the colours in the new yarn are beautiful I just HATE HATE HATE that tiger stripey effect you get from it. So the blanket looks like this except is pretty shades of greens and blues. I just found this as an example.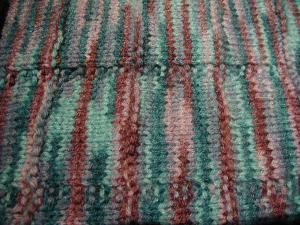 I love the colours, but feel the blanket is just too plain and ugly. I wouldn't knit it for my kid and I feel weird giving it to my cousin for hers if I think it's so ugly.
Her baby shower was yesterday (I purchased some baby care items for her) and after seeing how many blankets and hats and booties she got, I just figured I wouldn't bother and would frog back and use the yarn for something that showed off variegation more flatteringly.
But then my aunt, came up and was all "AWWW I was so excited to see your knits." So now I feel guilty for saying anything at all. :oops:
So now I have 3 options: Finish the half finished ugly blanket and give it anyways. Frog back and make the original blanket I was going to knit, since I was excited about it, or just not make any blankets at all and figure no one will notice once the baby comes.
What would you do?:verysad:
| | |
| --- | --- |
| Silver | 09-03-2007 01:05 PM |
---
I don't think you should knit anything you don't love. You may never finish it, and if you do finish it and give it as a gift, you're going to feel crappy about it, so what's the point?

I'd frog.
| | |
| --- | --- |
| karne | 09-03-2007 01:17 PM |
---
If you keep knitting you won't like it any better. If you give it as a gift, you'll always regret it. Make something else! :)
| | |
| --- | --- |
| Miss Moosey | 09-03-2007 02:07 PM |
---
I know that there are some blanket patterns where you knit the blanket one long, thin panel at a time and then sew them all together. Maybe you could do that and it would show off how pretty the yarn is a little better.

You should never knit something that you are not excited to knit. What's the point if you aren't having fun? Remember, you can always give the blanket once the baby is born, too. For, say, a one month birthday gift.

Good luck!
Rebecca
| | |
| --- | --- |
| debinoz | 09-03-2007 02:30 PM |
---
If you and your cousin have the same taste in things and you don't like how it's turning out, definately frog it. I've made some things I wouldn't put in the dog's bed, but nieces and nephews loved them.
| | |
| --- | --- |
| Songbirdy | 09-03-2007 04:21 PM |
---
Personally I'd frog.

If you can get your hand on the one-skein book, the Baby Bolero is a quick knit and its adorable. You could potentially do it in your yarn choice. You'd have some playing to do to get your colours right but it turned out great!

I'm not the most sold on how she does the picking up for the ribbing though, but am not sure how I would change it either.
| | |
| --- | --- |
| Krystal | 09-03-2007 04:40 PM |
---
well I took it off the needles, but I wont frog it yet.

I just wasn't enjoying it, I would rather give nothing than something I didn't like.

But I will try something else.

Thank you all for the input. :muah::muah::muah:
| | |
| --- | --- |
| zkimom | 09-03-2007 04:46 PM |
---
I bet that yarn would make a really cute Baby Surprise Jacket. Its a fun pattern to make and there is a KAL
here
.
| | |
| --- | --- |
| Krystal | 09-03-2007 07:57 PM |
---
I actually don't like the baby surprise jacket... not my taste. And in either way I just hate the way variegated yarn knits up... I tend to stick with solids or self striping.

But I chose to do the original blanket I had in mind. It's a sequence of blocks, and I am using yellow which I have tons of and the variegated. Since it's in smaller blocks it isn't as ugly to me, and the blanket I am doing is super cute so I think it will be ok.

Thanks you guys.:heart:
All times are GMT -4. The time now is

02:41 AM

.

copyright knittinghelp.com