| | |
| --- | --- |
| ArtLady1981 | 10-16-2007 07:58 PM |
---
FO: Baby Cardigan & Hat!

Hi'ya! :waving:
My girlfriend's 1st grandbaby was born about two weeks ago.This set is a gift for the little bundle of joy!
The pattern was easy, and had no errors within the directions. I find that King Cole patterns are very carefully QC'd. I got 12 skeins of this yarn in a yarn swap at my South Sound Knitter's Guild meeting a few months ago. I only used about 2 skeins for this project.
The Cardigan and Hat
Inside closeup of the hat.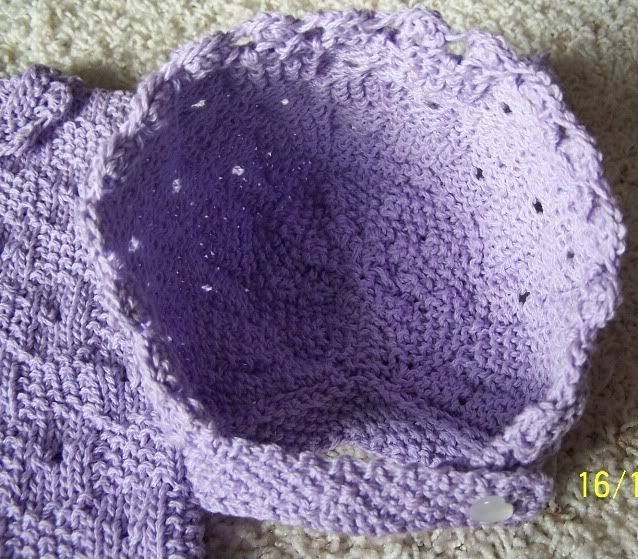 The Cardigan: Size 3-6 months.
The Leaflet: purchased in 2002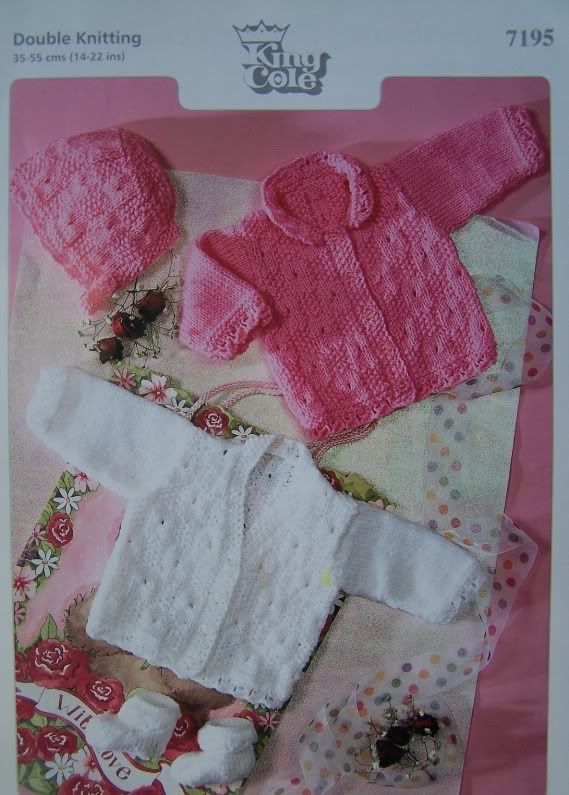 The Yarn

---
i realy like the colour it looks so cute someones going to be a very lucky baby.:inlove:
| | |
| --- | --- |
| merryknitter | 10-16-2007 10:01 PM |
---
Beautiful...yet again!

Artlady....your work is so beautiful! I love purple anything...what a beautiful set...I would love to get that pattern! Where would I find it?

| | |
| --- | --- |
| speattle | 10-16-2007 10:09 PM |
---
That is absolutely adorable! This North King County knitter loves the set. :happydance:
| | |
| --- | --- |
| Brandilyne | 10-16-2007 10:16 PM |
---
So cute!!! I don't know how you do it, but your work always looks better than the picture on the professional pattern :)

It's absolutely adorable! Great job :thumbsup:
| | |
| --- | --- |
| Itsabtme | 10-16-2007 10:38 PM |
---
Awe, How sweet is that?! :inlove:

Everything you create always turns out so beautifully:cheering:
---
Those are adorable. I agree with
Brandilyne
that it looks better than the set on the leaflet.
| | |
| --- | --- |
| The.Knitter | 10-16-2007 10:55 PM |
---
Once again I am wondering how to get my hands on a pattern from a knitter on this site. This is adorable. Your work is just beautiful and the attention to detail is similar to my own. I always put the little tags inside the collar of presents I make, especially baby clothing. I also had business cards printed up with the instructions for "washing your hand knit baby garment". They were easy to do. My sister printed them out on her computer. As you probably figured out, I do a lot of baby knitting. It helps pass the time now that I am not "allowed" to go to work because of a disability. So now that I have found this site, I have a huge "to-do list" (if only I could figure out how to get the money for all the yarn I will need for the many projects I have seen on here that I love, yours included.

And life goes on........
| | |
| --- | --- |
| ArtLady1981 | 10-16-2007 11:51 PM |
---
Quote:
---
Originally Posted by merryknitter (Post 984111)
Artlady....your work is so beautiful! I love purple anything...what a beautiful set...I would love to get that pattern! Where would I find it?

---
Hi! :waving:
I showed a photo of the leaflet...King Cole pattern leaflet #7195. The only thing I can think of is: Google it...see what you come up with. If you have a LYS...ask the owner, too.
And, thanks for your kind words EVERYONE! Much appreciated!
| | |
| --- | --- |
| momwolf | 10-17-2007 01:53 AM |
---
you do such beautiful work
All times are GMT -4. The time now is

11:29 PM

.

copyright knittinghelp.com