| | |
| --- | --- |
| Ladylou | 07-03-2008 04:52 PM |
---
Warm Woolies Oddball Blankets

Hello There Charity Knitters!:star:
I dont know how much ya'll know about Warm Woolies... Its a really great project that brings wool, hand-knit clothing to orphans and homeless children and babies around the world (Including really far away places, like Russia and Kazakstan). You can check out more and read the whole story at
http://www.warmwoolies.org
The only acrylic item that the accept are baby blankets. I saw that the regular Oddball baby blankets have decided to to take a rest, and I thought that there might be an opening for the great charity knitters of knittinghelp.com to do just a few (I was thinking three? or more, of course:teehee: ) baby blankets for this really fantastic cause.
I'm not sure how much intrest there will be in this idea, but I would absolutely love to help Warm Woolies out in bringing these much-needed blankets to children in need.
Please post here if you're intrested!cloud9 :heart:
Love,
Lexie:muah:
| | |
| --- | --- |
| kayrun | 07-10-2008 09:46 PM |
---
I'll be happy to help out!
Sounds like a great idea!
| | |
| --- | --- |
| Ladylou | 07-11-2008 02:16 AM |
---
Hi There kayrun!
Thanks so much for posting:hug: I'll pm you right now:) So far its just the two of us, but its a fantastic start!
Here is our first blanket (knit by just me:teehee: ):
Baby Blue Sunshine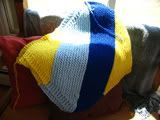 Love,
Lexie
Okay, I got excited:teehee: Here is our new blogspot!:D:woohoo:
http://warmwooliesoddballbabyblankets.blogspot.com/
Its still in progress, but if there is anyone who wants to take a look, all the info is up!
| | |
| --- | --- |
| gmmarton | 07-11-2008 07:43 AM |
---
Lexie,

I've sent WarmWoolies lots of hats in the past...they're a very good organization. Please add me to your list of Oddball Baby Blanket knitters.

Thanks!:hug:
| | |
| --- | --- |
| kellee0302 | 07-11-2008 12:00 PM |
---
Warm Woolies Blankets

I am willing to participate in this.
| | |
| --- | --- |
| Ladylou | 07-11-2008 03:14 PM |
---
Welcome!

Hi There ya'll!:muah:
Welcome to the project gmmarton and kelle0302! I'm so glad that ya'll have decided to join in:hug: I'll send you both pms:happydance:
I finished our blanket "Cuddle Bug Blue" this morning and will post pictures of it later today:) (it will also be on our blog at
http://warmwooliesoddballbabyblankets.blogspot.com/
)
Is there anyone who would like to volunteer for starting up our first group blanket or have ideas for cute names?:) We're going to be using doubled-up yarn since it is going somewhere so cold, so if you dont have yarn to use that much of, I can send you some!:knitting:
Hope ya'll are doing well!
Love,
Lexie:muah:
| | |
| --- | --- |
| Ladylou | 07-11-2008 04:35 PM |
---
Hi Everyone!
Here is the promised post of Cuddle Bug Blue. Dont you just love the name?:teehee: My mom thought of it.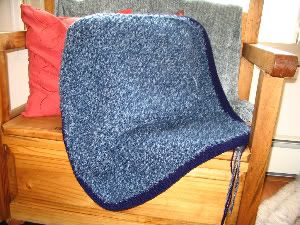 Love,
Lexie:muah:
| | |
| --- | --- |
| Ladylou | 07-12-2008 09:02 PM |
---
Hi There Ya'll!:hug:

Give a big welcome to our newest member, LBECK!:woohoo:

Also, Gmmarton (Gail) has started our first group blanket!:yay: She named it "Flower Garden" and will have it done by Monday. I'll take a section so that makes two of the five done... Is anyone intrested in taking a section?:cheering:

I'm gonig to start a blanket tomorrow as well, so if anyone wants to sign up for both and jump on the train headfirst you wont get both blankets at once:teehee:

Go team Warm Woolies!:teehee:

Love,
Lexie:muah:
| | |
| --- | --- |
| Wyospinner | 07-12-2008 10:36 PM |
---
Hello from Wyoming

I would love to help. Let me know how it works. Kay
| | |
| --- | --- |
| Ladylou | 07-13-2008 12:33 AM |
---
Hey Ya'll!

Say hello to our newest member, Wyospinner:hug:

I've sent you a pm:)

Love,
Lexie:muah:
All times are GMT -4. The time now is

06:55 AM

.

copyright knittinghelp.com