- -
Color Change?!
(
http://www.knittinghelp.com/forum/showthread.php?t=93352
)
| | |
| --- | --- |
| ceb123 | 08-08-2009 05:45 PM |
---
Color Change?!

I am making a scarf (my own pattern) and am scared that when i change colors it'll start out the old color. does anyone have any advice on how to do this without that happening?:???:
| | |
| --- | --- |
| Krystal | 08-08-2009 08:13 PM |
---
If you just knit with the second colour you don't have anything to worry about it being the wrong colour. Just make sure your working yarn is the colour you want to be knitting. So if you have been knitting with red and now want a white stripe, make sure the yarn you are holding is white, and you're good to go.
Here is an example of how stripes turn out.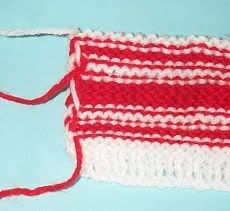 The left side is the wrong side (ws) of the work, and the right picture is the right side (rs) of the work.
If you are knitting stockinette you will have both on opposite sides of the work.
If you are knitting garter stitch, your stripes will look like the first picture on both sides. There will be a noticeable join, where the two colours looped together, which is why the first picture has so many tiny stripes blended into it.
I got the pictures from
http://www.houghtonavenue.com/how-to-knit-stripes.html


I hope this is helpful, there are also videos here at knitting help under
knitting tips
, on how to join different colours of yarn.
| | |
| --- | --- |
| Jan in CA | 08-09-2009 01:24 AM |
---
If you always change color on the right side of the work it should be fine if you are just doing stockinette.
| | |
| --- | --- |
| LizzieK8 | 08-09-2009 07:58 AM |
---
With st st one can change color at either side of a flat knitted item. Only with garter stitch does one have to be careful and change colors when the right/public side is facing the knitter.
| | |
| --- | --- |
| ceb123 | 08-13-2009 03:55 PM |
---
thanks everyone this was so helpful
All times are GMT -4. The time now is

12:41 PM

.

copyright knittinghelp.com