Quote:
---
Originally Posted by EmeraldSpider (Post 1257862)
I have been reading your most recent blog posts and I have to say you are quite an interesting fellow. I am sorry to hear about you leaving your knitting in the truck especially with all that down time. I also must note that those are very hansome pipes you just recently picked up. I am getting my sir a pipe for christmas, it is a running unintentional joke in his family. Two christmass' ago he got a London Fog coat for his mom and his niece got him a magnificent magnifying glass (nice and heavy with some sort of carved stone for a handle) last year. So I am taking the torch and carrying it on this year and I could use some advice(what type to get, where would be the best place to look, types of tabacco and so forth) any advice would be wonderful. Thanks:cool:
---
AH, I sense a Sherlock Holmes theme here! The game is afoot!
You can't go wrong with a nice Savinelli pipe, or if you wish to stick to the movie Sherlock, buy him a nice Calabash pipe as that is what the movie Sherlock smoked (not exactly true to the book but what everyone associates with him). In the books Sherlock smoked a clay pipe, which I do not recommend for a newbie pipe smoker.
Peterson also has some Sherlock Holmes pipes, but I am not a fan of Peterson as they dip stain their pipes which means there is stain inside the bowl and they taste terrible for the first 10-20 smokes. Stupid of them.
This is a Calabash (mine, actually):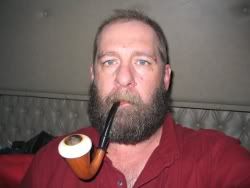 Sorry for the ugly bloke behind the pipe :teehee:
As for where to look, if there is a tobacconist near you that would be a great place to start, otherwise the web has tons of pipe sellers. If you can find a gourd calabash that would be the best, but a mahogany one will do.
Be prepared to spend $100 or more for a decent calabash pipe, they aren't cheap.
Tobacco? Well, that's very subjective to the smoker, but a very enjoyable English blend is Samuel Gawith Squadron Leader. It's held in high regard by almost all pipe smokers.
Another good tobacco is W.O. Larsen's 1868, which is a very good aromatic and can be purchased in 100g tins.
Personally, I think the Squadron Leader would be the way to go.